In ons eerdere PS5 nieuws bericht vandaag hadden we het er al over. Sony maakt details bekend aan de hand van een tweet. Er zou een livestream zijn om bepaalde details te tonen. We kunnen er een lang verhaal van maken maar dat doen we niet. Dit is wat er gebeurde;

Langggggg verhaal
Om precies 17:00 uur opende Sony hun presentatie op Youtube. Er waren op dat moment meer dan 650k viewers. Iedereen had er zin in…..maar al snel sloeg de sfeer onder de kijkers om naar een slaapverwekkende modus. Het duurde erg lang voordat er concreets iets werd vermeld en viewers reageerde met zzzzzzzzzzz en boringggggg.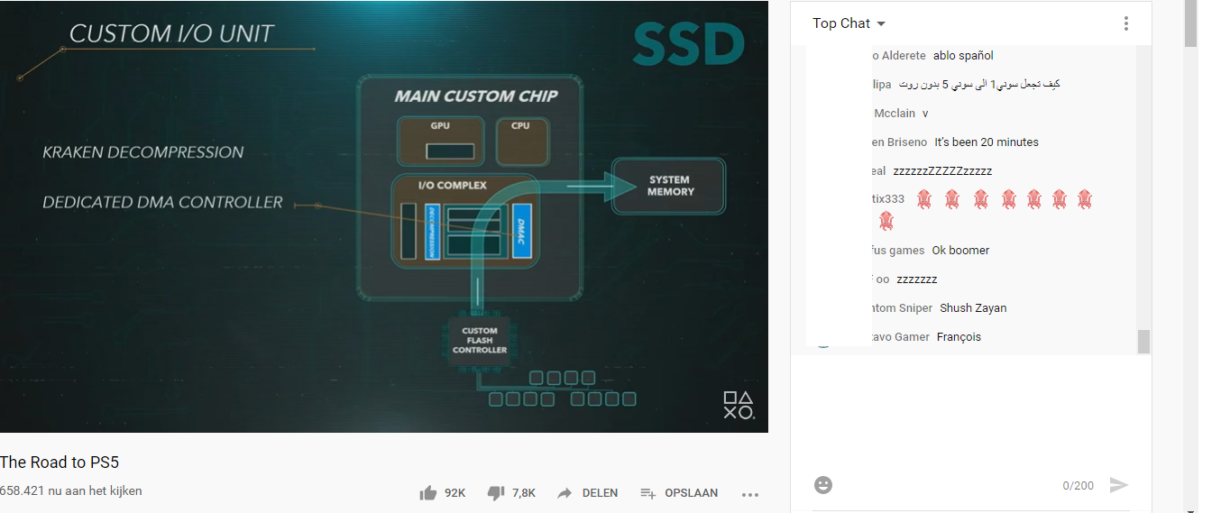 PS5 specs
Wat
Specs?
CPU
x86-64-AMD Ryzen™ Zen 2
8 Cores / 16 Threads
Variable frequency, up to 3.5 GHz
GPU
AMD Radeon™ RDNA 2-based graphics engine
Ray Tracing Acceleration
Variable frequency, up to 2.23 GHz (10.3 T-FLOPS)
System Memory
GDDR6 16GB
448GB/s Bandwidth
SSD
825GB
5.5GB/s Read Bandwidth
PS5 Game Disc
Ultra HD Blu-ray™, up to 100GB/disc
Audio
"Tempest" 3D AudioTech
Video Out
Support of 4K 120Hz, TVs, 8K TVs, VRR (HDMI ver.2.1)
Audio
Playstation 5 specificaties?
Op onze pagina Playstation 5 specs vind je uitgebreidere informatie.
Blijf op de hoogte van het laatste nieuws over de Playstation 5!